Welcome to Mrs. Pierce`s Homepage
Welcome to Georgetown Middle School
"Where The Best Get Better"
2016-2017!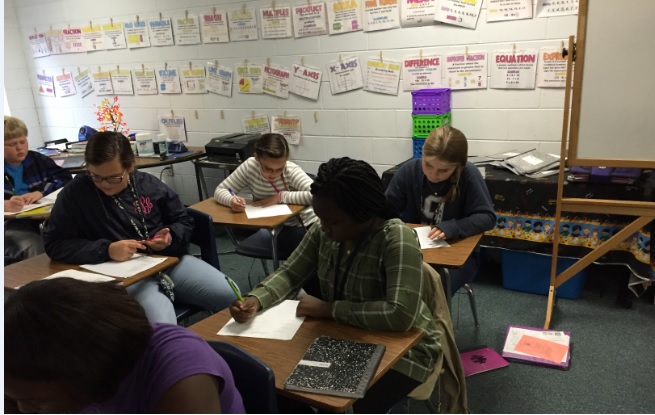 Welcom to the 8th Grade. We are expecting to have a wonderful year! Please encourage your children to be the best they can be. I know I have the BEST students!
Please check my calendar for assignments. This may change at any time that students need more instruction to aid in their understanding. Math is fun and I want to encourage all students and help them be successful. Please encourage your child to ask questions if they do not understand what we are doing. I love answering questions and giving examples.

Math is a subject that requires constant practice. Homework will usually be given during the week. No professional athlete would enter a game without practicing first.
I look forward to working with you and your child. Together we will have a very successful year. Please feel free to call me at school 527-4495 to make an appointment for a conference or e-mail me at lpierce@gcsd.k12.sc.us . I will get back with you as soon as possible. My cell number is 843-222-4903. I want us to have constant communication so if you need to please feel free to call. My planning time is 10:15-11:10 AM. Please call the front office and make an appointment if you would like to conference.
The supplies that we will need this year are:
Pencils (NO PENS ARE ALLOWED IN MY CLASS)
2 Composition notebook (not spiral)
notebook paper
colored pencils
expo markers
Highlighters
Donations of Kleenex and hand sanitizer
disinfecting wipes would be greatly appreciated
Working together your child will have a very successful year!
Our Digits Textbook is online!
Go to http://mathdashboard.com/digits
Username: gms.firstname.lastname
Password:

To make sure that your computer's settings are correct for the book go to: http://www.macromedia.com/
support/documentation/en/flashplayer/help/settings_manager04.html
and you will add a location, choose from a file, use your desktop and add your desktop. Once that is done you should be able to access the book. If you have issues using the book on Internet Explorer, use Mozilla FireFox as your web browser
Leveta Pierce